APRIL, MAY EN JUNE
On Dec. 19 this feature film will premiere in Amsterdam.  Patrick plays the father of one of the many children of an old girlfriend who is gathering children and fathers because of her painful terminal cancer.  She is medically ending her life.  It explores many of the effects of right to die issues.
RANDOM ACTS OF CHRISTMAS
In July, Patrick finished filming this Lifetime movie inspired by a story idea following random acts of kindness at Christmas, a journalist reconnects with an old flame in her home town. Also starring Erin Cahill, Kevin McGarry and Jaclyn Smith. It is scheduled to air on Sunday, Nov. 17, 2019.

THE MISTLETOE SECRET
Earlier this year Patrick filmed the Hallmark movie THE MISTLETOW SECRET, also starring Kellie Pickler and Tyler Hynes. Former interior designer Abbey Fuller can't resist the opportunity to redecorate businessman Nick Sinclair's grand family estate. But her challenge involves more than furniture, paint and a tight Christmas Eve deadline. The real conundrum is Nick, a buttoned-up workaholic who surprises Abbey, and himself, when he begins to reveal the kind, thoughtful man beneath the polished façade."It is scheduled to air on Sunday, Nov. 10, 2019 at 8pm on the Hallmark Channel.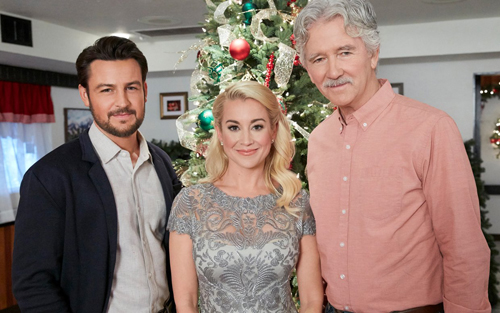 HULU RECREATES TGIF WITH 800+ EPISODES OF STEP BY STEP
"I'm so excited that starting today, Friday, Sept. 30, Step by Step - all 160 episodes - is available on Hulu. Streaming on iPhones, iPads androids, smart TV's ... Everywhere!!!" Patrick
For all of Patrick's Step by by Step fans, Hulu Recreates TGIF with 800+ Episodes
June 24, 2016
Patrick is pleased to announce the release of his novel, Man from Atlantis, from Permuted Platinum on June 21, 2016.

Dive deeper than ever before and discover the origins of the Man from Atlantis.

When TV unveiled the series Man from Atlantis no one knew the how, where and why of Mark Harris.  Over time the show's star Patrick Duffy formulated his own version of the history of Mark and his people.  Here at last is the book that gives every reader and fan of the show the life and mythology of Atlantis, who they were and where they came from. Patrick's close connection to his fictional character gives us a special look "behind the scenes" of this amazing fantasy story.

Mark Harris, the Man from Atlantis, has been quietly living under the protection of Dr. Elizabeth Merrill who saved his life in 1976. By studying his abilities the two have contributed countless advances for mankind's development. Only a select few know his true identity:

Jason the whiz kid of the science lab

Stacy the bright young intern–who is constantly flustered by Mark's presence

Dr. Nagashima, a master of oceanic knowledge who Elizabeth lured from Japan to join her inner circle

Then their California ocean side laboratory is shaken when several attempts are made upon Mark's life. He discovers the assailants have powers similar to his and he is lead into the uncharted depths of the oceans. As he discovers his past Mark's origins and genealogy finally come to the surface.

Includes photos from the author's personal collection.
PATRICK STARS IN TRAFFICKED
October 2, 2015
Patrick has just finished work on the new thriller feature film TRAFFICKED, also starring Ashley Judd. Trafficked from three different worlds, three young women - Sara, a spirited American orphan; Amba, a sheltered college-bound Indian teenager; and Mali, a poor Nigerian villager - band together to survive the horrors of forced prostitution in a Texas brothel, run by the tyrannical Simon. On the verge of losing all hope, and despite terrible odds, Sara unites the girls in a daring escape attempt. It's not only a race against time, but a race against destiny and with a little luck; they just might be able to bring Simon down along the way. Trafficked is a riveting story of organized crime, global human trafficking networks, and above all, the indomitable will to be free.